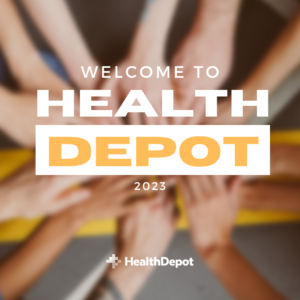 Health Depot Association Members,
First, we want to welcome our new members to the Health Depot Association. We are pleased to announce that we wrapped up 2022 with a Health Depot membership of 26,000 across the country.  Our membership is comprised of people just like you, taking the time to research and find the right health solutions for themselves and their families. Although healthcare transitions and changes across the country, Health Depot remains committed to providing industry-leading benefits and value for its members.
And this year, Health Depot would like to announce a new partnership with Kindly Human to introduce an answer to mental health resources. By connecting humans through shared experiences, Kindly Human delivers highly personalized support and navigation. Health Depot is working with Kindly Human to provide new on-demand, peer support resources for our members. Stay tuned for more details as these offerings are rolled out.
You may have also recently received information in the mail from our affinity partner, Farmers Insurance, who offers Health Depot members an easy way to compare and shop for auto, home and renter's insurance through Farmers Insurance Choice.  Find out more info or receive a quote on the Health Depot website under Affinity Marketing Programs.
Thank you for your ongoing feedback regarding resources that you value as a member of Health Depot.  We will continue to monitor the landscape for new, competitive tools and resources that can work hard for you and your family. Be sure to check the Health Depot social media channels and newsletter for the latest updates throughout the year. Thank you again for your continued support.
Sincerely,
Doug Abbott