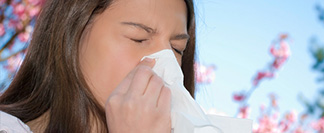 Living with allergies can be difficult, and unfortunately, allergies are extremely common. It's estimated that as many as 50 million people in the U.S. experience allergy symptoms, including nasal congestion, sneezing, sinus pressure, eye irritation and even asthma for severe allergy sufferers. Allergic reactions are triggered by many different types of allergens, like pollen, which are worse seasonally when particles are released from trees, weeds and grasses. Pollen can even travel long distances through the wind, so you don't need to live near trees that trigger your allergies to be affected by their pollen.
No matter what type of pollen that affects you, these tips can help get your allergies under control:
Limit your time outside – Stay indoors at times when pollen counts are highest. It also helps to know what pollen triggers your allergies. Pollen is typically highest from 5 am to 10 am and on windy days.
Find out pollen counts in your area – You can look up pollen counts in your area. Click here to look up counts by zip code.
Stay indoors on hot, dry days – Pollen is more likely to be in the air on hot days and on the ground on cooler, wet days.
Wear a mask when working outside – It can help while gardening or doing other yard work. You may want to avoid mowing the lawn if you are experiencing allergy symptoms.
Change your clothes after spending time outside – Pollen may have been picked up on your clothes when you were outside. For severe sufferers, showers are recommended to remove pollen that may have collected in your hair and skin.
Keep your home clean – Frequent vacuuming can help. Be sure to change your air conditioning filters often.
Keep windows closed – This will limit the amount of allergens that enter your home. The same thing applies to your car.
Wash your hands frequently – This can especially help if you have a pet, as they can bring in pollen they have been in contact with outside.
Consider allergy medication to treat symptoms – Antihistamines reduce or block histamines – the chemicals the body makes when allergic reaction is triggered. Many medications are available over-the-counter. If you're not sure which medication to use, be sure to consult with your doctor, especially if you have other health conditions.