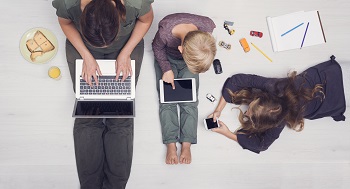 As we begin to make resolutions for a healthy and prosperous new year, consider reducing the time you spend in front of screens.  According to a Nielsen report released in June 2016, adults spend an average of 10 hours and 39 minutes daily in front of screens – including tablets, smartphones, Internet and television.  This time increased from the previous year by an hour average overall.  In addition, the time spent in front of the screen and what is consumed while there can be detrimental to your health.
A new book, "The Power of Off," by Nancy Colier, a New York psychotherapist, provides some insights into connecting outside of the screens.  In a recent interview with the New York Times, she says, "It's connections to other human beings – real-life connections, not digital ones – that nourish us and make us feel like we count.  Our presences, our full attention is the most important thing we can give each other.  Digital communications don't result in deeper connections, in feeling loved and supported."
Creating a healthy media environment and screen time limits is critical for quality family time, decreasing overall stress and building stronger relationships.
Common Sense Media provides 7 Media Resolutions for Families in 2017:
Have a device-free dinner – by taking your devices off the table, you can interact on a personal level about daily issues and current events.
When it comes to media, think quality, not quantity – aim for a balance between educational, online activities and offline, physical activities during the week.
Use media for relationship strengthening – join your kids on their video game networks to play games like Minecraft or Pokémon together or create Musical.ly videos together. Even reviewing photos and videos on the family shared network as a family provides an opportunity to reminisce together.
Don't ban; have a plan – try to keep an open mind about what your kids are on, but create limits and boundaries. Help kids to understand about positive online interactions and talk with them about what they are doing online.
Seek out diverse characters – help your kids learn how to get along with all types of people by exposing them to different types of people in a healthy, safe way.
Raise media-savvy kids – not everything we see on the Internet is true, even if it is presented in a way that makes you believe it could be (fake "news" sources). Teach kids about legitimate news versus click bait.
Tighten your privacy – now is the time to have conversations with your kids about revealing personal information and the potential consequences for what you post or say online.
For more information on how to balance lifestyle with digital media and creating a personalized family plan, visit www.healthychildren.org/mediuseplan.
Sources:
The Nielsen Total Audience Report Q1