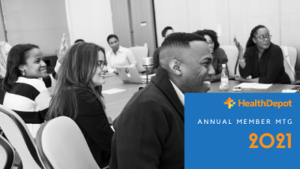 To Our Membership,
The impact of life during a pandemic has been felt far and wide.  At Health Depot, we remain committed to the health and well-being of our members, employees and our surrounding communities by providing support through targeted resources and benefits.
Many of our Health Depot memberships include benefits like Teladoc telemedicine, which offers unlimited physician consultations from your home, as well as MyMedLab, which provides at-home lab testing flexibility. You can find all the information about the resources and benefits available through your membership in our Member Portal.
In 2020, we were proud to be able to award a scholarship of $2,500 to a Health Depot member, selected by Scholarship America, an independent administrator.  We were also able to provide more flexible solutions for you and your family with a new SecureShield membership that provides access to group accident insurance benefits at different levels. Additionally, we are pleased to introduce MDsave, a cost savings website for radiology tests, now available on many Health Depot membership levels. We will continue to research additional cost-saving, value-added resources for the benefit of our members.
We will continue to keep you informed of any developments through our regular communication channels – Twitter, Facebook, our newsletter and Member Portal.  Thank you again for your continued support and membership in the Health Depot Association.
Sincerely,
Doug Abbott