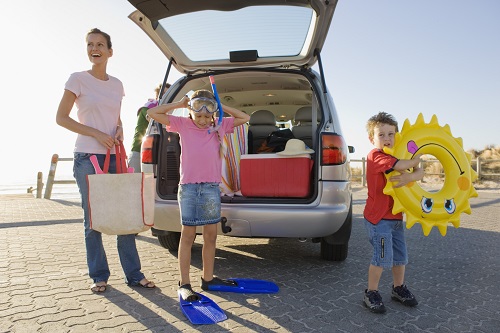 If you're taking a vacation this summer, planning your trip may already be underway. Here are some tips that can help you save money:
Find an Affordable Flight – Book your flight on the best days. Ticket prices fluctuate frequently. Booking flights earlier in the week is best for the least expensive fares. Most airlines offer lower prices on Monday, Tuesday and Wednesday.  The more in advance you book your flight, the less your ticket will cost.  Be sure to shop around for the best fares. Don't forget to be flexible on your travel days. It can save you money on your ticket. There are many travel sites, like Priceline, Travelocity, Kayak and Orbitz, even Google Flights, that can help you compare airfares. 
Consider Driving – Even with gas prices on the rise, driving can still be more economical than flying.  Traveling by car adds convenience if you're packing a lot of things – like beach gear (you'll be able to avoid expensive beach rentals).  Plus, by driving, you can enjoy the scenery along the way. Although driving will take longer to get to your destination, making a few stops can help -- especially if you have children.  You may even find a fun new restaurant on your route.  If gas prices are a concern, you can visit www.gasbuddy.com to help you find the least expensive gas on your trip.
Use Vacation Rentals – Try a vacation rental instead of a hotel. Whether you select an apartment or house, rentals can save you money.  Rentals offer more space, which is perfect for accommodating larger groups.  Plus, rentals include a kitchen, which will help you to minimize eating out. You can stock up your kitchen with food from a local grocery.  You'll be amazed how much money you'll save compared to eating out at every meal.  Dining out is expensive, particularly in touristy areas. Check out www.vrbo.com or www.airbnb.com to look at options.
Dine at Lunch – Although dining in can save you money, going out to restaurants is still part of the fun experience of vacationing.  It's nice taking a break from cooking and enjoying a fine meal – especially in a place with great ambiance. If you want to dine out but still want to save money, try eating out at lunch instead of dinner.  Menu prices tend to be 30% less, plus you'll be less likely to order costly drinks when dining earlier in the day.  Plus, restaurants tend to be less busy at lunch. You may even find that after a long day of sightseeing, it's nice to go back to your accommodations to wind down from the busy day and enjoy a relaxing meal.  For a time saver, you can prep food early in the day, like chopping vegetables and marinating meats.
Source: travelchannel.com