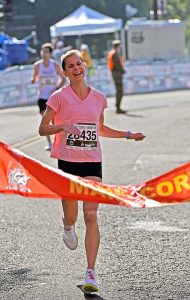 Have you ever thought about running a race for the first time, but didn't know where to start?  When it comes to running, a 5K or 3.1 miles, is the perfect distance for new runners.  From training to tackling those race day jitters, here are some helpful tips to ensure you crush that first race.
Get Started
Sign up for your first 5k.  Search one for one close to you or a destination race if you enjoy traveling. If there is a cause that you feel passionate about, see if there is a 5K that helps to raise money to support that cause.  Active.com has a great list to start with and you can search locally. By committing to a race, it can provide that additional motivation to get you moving.
Make a Plan
The internet is full of resources that can help you plan.  Find a plan that fits your goals. 
Shape.com has a page dedicated to training plans – from A Beginner's Guide to Running a Race with Your BFF.
Couch to 5K App - For anyone who has wanted to try running but couldn't figure where to start, this app will help you on your journey. A free eight-week program gives users three workouts per week to get you ready for an upcoming race.
Runnersworld.com is another great site where you can select a plan based on your own goals.
Find a Running Partner or Community
In addition to accountability to keep you running toward your goal, running partners understand the struggles and pains and are a great sounding board for advice when you feel like you aren't making progress or want to give up. 
Get a Good Pair of Running Shoes
Find a store that can fit you for shoes according to your stride and where your foot first comes in contact with the ground.  Getting the right shoes can help prevent issues like shin splints, blisters, tendonitis and plantar fasciitis.  Make sure you break your shoes in slowly – never run in a new pair of shoes on race day.
Enjoy Race Day
Once you've put in the work and trained for your big day, you don't want to spoil it by making any rookie mistakes.
Get good sleep the night before – have all your running accessories ready to go, including your race bib and safety pins.
Eat a healthy dinner the night before & drink plenty of fluids.
Get to the race early – 45 minutes to 1 hour should give you plenty of time to stretch, find the starting line, use the restroom and mentally prepare.
Start your race slowly – don't let your adrenaline and excitement cause you to go too fast. Going too fast at the beginning will burn your energy more quickly and you might not have enough energy to finish.
Pace yourself – start slow and gradually speed up over time so you can finish strong.
Celebrate Your Finish
You've just accomplished something amazing so take time to celebrate it! Don't forget to cool down and slowly refuel your body with protein, carbohydrates and water. And start looking for your next 5K!