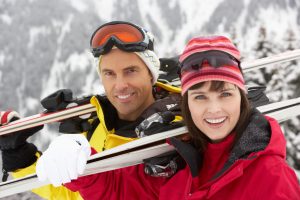 Have you ever wondered about staying healthy while flying in an airplane and traveling to new destinations during the winter months? It can be tricky, given colder temperatures, more germs hanging around inside, and sharing the air in closed places.
Here are some doctor-approved tips for staying on top of your health while traveling:
Drink Carbonated Water
Tap water can be unsafe to drink, especially in foreign countries and can cause traveler's diarrhea due to bacteria present in local water sources. Carbonated water with an intact seal can give you peace of mind. Hydration is important though – so enjoy your sparkling water as often as possible.
Probiotics: Trust Your Gut
Your immune fighting power begins in your gut, so boost up your probiotics. Forms that contain lactobacilli and bifidobacteria may help prevent G.I. disorders. Eat and drink wisely and avoid overindulgence which can impact your gut health while traveling.
Vitamins and Medications
Don't forget to bring an ample supply of medications. According to the FDA, many drugs sold in developing countries contain impure or toxic ingredients. Also, taking magnesium while traveling may help you get better sleep while traveling and also acts as a laxative - helpful when dealing with changing time zones, sleep patterns and diet during vacation.
Saline Spray
Airplanes are notorious for dry air – a potential problem for your immune system. Dry nasal membranes create a breeding ground for germs because the microscopic hairs in your nose that move germs through don't work effectively when too dry. If you use a saline nasal spray or gel an hour before and after your flight, this may help prevent germs from traveling down into your throat or lungs.
Enjoy your travels and stay healthy along the way!
*Sources include FDA & Wellness by The Huffington Post