Features
Average savings of 44% with a potential of up to 75% (based on 2014 national program savings data)
Accepted at over 62,000 participating pharmacies nationwide, including major chains and independent pharmacies
Can be used for all prescription drugs, both brand-name drugs and generics
Members will always receive the lowest price available on your prescription purchase
Savings
FAMILIES WITH LIMITED OR NO PRESCRIPTION COVERAGE can reduce out of pocket costs
INDIVIDUALS WITH PRESCRIPTION COVERAGE can reduce the cost of medications that are not covered
SENIORS WITH MEDICARE PART D can save on prescriptions that are EXCLUDED from coverage
Honored at Over 62,000 Participating Pharmacies, Including: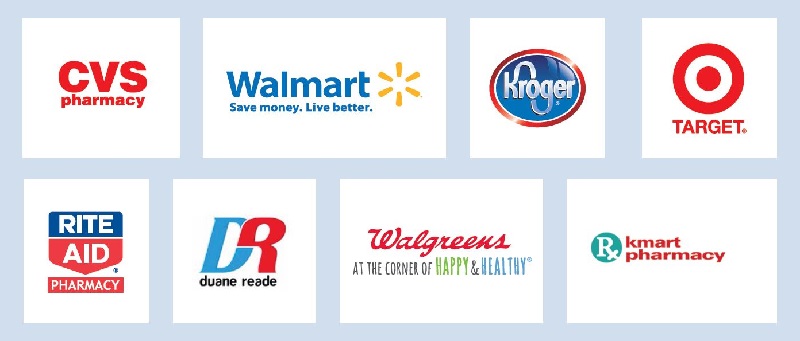 Plus Thousands of Additional Chains and Independent Pharmacies Nationwide.
DISCOUNT ONLY - NOT INSURANCE. Discounts are available exclusively through participating pharmacies. The range of the discount will vary depending on the pharmacy or provider chosen and services rendered. The program does not make payments directly to the pharmacies or providers. Members are required to pay for all health care services. You may cancel your registration at any time or file a complaint by contacting Customer Care. This program is administered by Medical Security Card Company, LLC of Tucson, AZ.