Point Health Patient Advocacy Services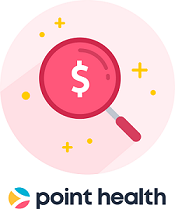 Healthcare Navigation
When you have time to make an informed decision about where to receive medical care, Point Health's patient advocates help you pick the best option for your budget and preferences. Your patient advocate can help you: Search for the hospitals, prescriptions, surgery centers, and medical facilities for non-emergency procedures that fit your needs. Compare estimated costs of outpatient procedures. Transfer medical records. Contact and schedule appointments.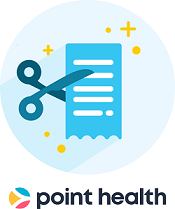 Medical Bill Negotiation
Have a huge ER bill? Or maybe you were stuck with an out-of-network bill that's more than you can afford. No matter the situation, Point Health's bill negotiators can step in on your behalf to negotiate your medical bill. When you or a covered family member have bills totaling over $2,000 from a single-related medical incident during membership contact your bill negotiator, give them your bill information, and they'll take it from there.

Benefit Summary
RX Valet for Pets is the complete solution to paying less for high cost medications!  All prescriptions are eligible for savings and the membership is accepted at over 60,000+ independents nationwide. Search for a medication, select, and save.
How RX Valet Works for Pets:

Search a medication from the database.
Select the correct dosage and quantity.
Purchase your pet's medication for a fraction of the cost.
Save even more with free home delivery.
Check prices online.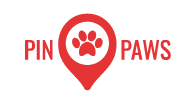 Benefit Summary
Pin Paws is composed of two features: an online pet profile for the storage of important information and documents with a lost-pet notification tag to help them be returned should they be lost and found.
PawPinner

Ever wanted to pin down those wandering paws? We all love our pets dearly, but due to modern day living a simple pet tag with a phone number isn't enough.  As much as we love to give our four legged best friends as much freedom as possible, sometimes they can enjoy a little too much and disappear off much to our dismay! There's no worse feeling than losing your pet!  No more worrying, fretting or panicking – this system allows you to be notified almost immediately when your pet is found.
The Dentachoice program offers members access to the Aetna Dental Access® Network, one of the largest dental discount networks in America, with over 263,000 available dental practice locations. Members can save 15-50% per visit on dental services when they utilize a participating provider.
The Outlook Vision Network is a national network of over 12,000 independent and chain vision optical centers. Members receive discounts on most prescription eyeglasses, frames and lenses, contact lenses (excluding disposables), medical eye exams and surgical procedures at participating retail locations.
Members can save an average of 55% on generic drugs and 15% on brand-name drugs at participating pharmacies nationwide. All FDA approved drugs are discounted with the card and there is no limit on the number of prescriptions filled.
Members can save up to 80% on brand-name and generic medications, including insulin, through our international mail order program. Ordering discount medications is convenient, easy, and secure.
Members have access to a natural and effective alternative towards health and healing with high-quality, broad spectrum CBD products. Numerous studies indicate that CBD may support homeostasis, or balance in the body's natural rhythms.
Total Diabetes Supply offers discount diabetes supplies at 20-85% off retail prices and members of the NCE Diabetic Supplies program receive an additional 10% off by accessing this program (note: "Weekly Specials" are excluded because they're usually marked down 15-25% the normal price). Members also receive free shipping on orders of $99 or more and orders typically ship within 24 hours.
Physical Therapy & Rehabilitation
Members save an average of 20% at over 1,200 offices with 4,000 rehabilitation and physical therapy providers in 23 states.
American Hearing Benefits offers members free hearing consultations and exclusive discounts on the latest hearing aid technology, including Bluetooth® setting, rechargeable hearing aids and sophisticated tinnitus products.
When members have a medical bill in excess of $5,000, they can call our patient advocate team for assistance. Our negotiation team is experienced in reducing charges from hospitals and medical providers. Note: There is a 15% of savings fee to access this service.
Medical Supplies & Equipment
Members can save from 20% to 50% off their medical supply needs. Items include a broad selection of ambulatory aids and bathroom safety items such as wheelchairs, scooters, hospital beds, and much more.
Laboratory Savings Program
With DirectLabs®, members can save up to 80% on blood tests at major clinical labs across the USA*. All tests are through the same CLIA-certified accredited labs used by your physician. (*NA in MD, NJ, NY or RI.)
Nutrition and Weight Loss
SDO Nutrition helps members achieve personal health goals, maintain a healthy lifestyle, and manage chronic health conditions through food and diet education.
Great Speech utilizes online video conferencing technology to provide live, one-on-one, highly individualized and interactive speech therapy services worldwide. Their innovative telepractice model of therapy provides an exciting alternative to the traditional service model. Members receive a 10% discount on services.
Members have 24/7 access to a registered nurse (RN) to answer questions on family health issues. Services in over 100 languages are included with medical information assistance.
Chiropractic Savings Program
This program offers members a free initial consultation, up to 50% savings on diagnostic services and x-rays (if necessary), and unlimited treatments at up to 30% savings from a national network of over 12,000 chiropractors.
Swanson offers members up to 75% off retail pricing on a huge selection of natural products including vitamins, supplements, and more.