Teladoc
Talk to a doctor by phone, web or mobile app anytime, anywhere. From your home, office, hotel room, or vacation campsite, simply make a phone call, and in most cases, speak to a doctor in less than 30 minutes, with an average call back time of less than 10 minutes. When you call Teladoc, you will always speak to a doctor who lives and works in the United States and is licensed to practice medicine in your state. Teladoc is also the only telemedicine provider able to treat children from 0-17¹ . It's health care that fits in the palm of your hand.

ScriptSave Rx Savings Card
The ScriptSave Prescription Savings Card provides you access to discounted prescription drug prices. All household members can use the same card – including pets, if the pet medication is a common drug that is also used by people. There are no limits on how many times members and their family can use the card.
Insured Benefits
Family Protection Plan with Terminal Illness Benefits
5Star Life Insurance Company
Term Life Insurance with Terminal Illness Coverage to Age 100
Key Benefits
Affordability
With several options to choose from, select the coverage that best meets the needs of your family, up to $150,000.
Terminal Illness
This plan pays the insured 30% (25% in Connecticut and Michigan) of the policy coverage amount in a lump sum upon the occurrence of a terminal condition that will result in a limited life span of less than 12 months.
Permanent Coverage
You and your family continue coverage with no loss of benefits as long as premiums are paid. Coverage can never be cancelled by the insurance company unless you stop paying premiums.
Family Protection
Individual policies can be purchased on you, your spouse, children and grandchildren.
Children & Grandchildren Plan
Policies can be purchased for children and grandchildren from the age of 14 days through 23 years for $10,000 or $20,000.
Easy Application Process
This insurance does not require a medical exam or blood profile. Eligibility for coverage is based on a few simple health questions on the application.
Convenience
Premiums are taken care of simply and easily through electronic bank draft deductions.
Protection You Can Count On
Within 24 hours after receiving notice of an insured's death, an emergency death benefit of the lesser of 50% of the coverage amount, or $10,000, will be mailed to the insured's beneficiary, unless the death is within the two-year contestability period and/or under investigation. This product also contains no war or terrorism exclusions.
* Life insurance product underwritten by 5Star Life insurance Company (a Baton Rouge, Louisiana company). Home office: 909 N. Washington Street, Alexandria, VA 22314. Administrative office: 777 Research Drive, Lincoln, NE 68521 • 866-863-9158 • www.5starlifeinsurance.com. Product available in all states except IN, NJ, NY, PR, VT and WA.
Other Information
Monthly Rates

¹Provided at the Wall Street Journal website at: www.wsj.com
²The premium amount assumes coverage was issued to a 40 year old individual who applied for a coverage amount of $75,000. Our rates are unisex.
A $9.00 fee is added to the monthly rates for the Health Depot Association/Value-Added Benefits and provides access to those benefits for all insureds on the 5Star policy. (Members enrolled in multiple 5Star plans will only incur one $9.00 monthly fee for the Health Depot membership.)
Program Manager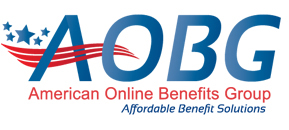 American Online Benefits Group (AOBG) is a program manager and master general agent (MGA) of affordable health, life, dental, vision, accident and prescription benefit plans. As an industry leader with over 28 years of experience in the health, life and supplemental insurance markets, our focus is to design, develop and market quality and affordable products for the clients and members we serve. Our product concept is to provide the greatest amount of value and the highest quality of service to our insured customers. These high standards are achieved by partnering with highly rated insurance carriers, well established national associations and trustworthy marketing agencies.
About the Carrier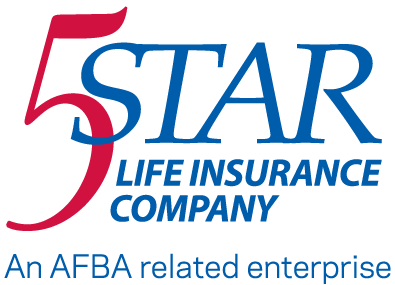 5Star Life Insurance Company
5Star Life Insurance Company (5Star Life), a related enterprise of the Armed Forces Benefit Association (AFBA), is a growing provider of supplemental and voluntary life insurance products, with no war or terrorism exclusions*. Our flexible business model enables us to serve the needs of our diverse clientele — as a life insurance advisor to individuals and organizations, and as a trusted partner to brokers. We offer a growing portfolio of employee benefit plans to fit every need and budget. Insurance is sold by 5Star Life contracted independent brokers/producers committed to offering insurance products customized to fit the needs of their clients.
Founded in 1996, today 5Star Life insures over 800,000 lives with $41.8B insurance in force. With a growing, innovative product portfolio, leading edge service and support options combined with our expertise and core values, you have our support and commitment to make it easy to do business with us.
*Exclusive to the life insurance products.

Membership Eligibility
Primary Insured between the ages of fourteen (14) days and sixty-four (64) years.
Reside in an available state.
Actively at Work – you are an eligible employee/member of the employer/affiliation through which you are applying for this individual insurance; you are able to work and to perform the normal activities of a person of like age and gender; and you are not confined in a hospital, at home or elsewhere due to injury or sickness on the date you signed this application.
Dependent children and grandchildren between the ages of fourteen (14) days through twenty-three (23) years.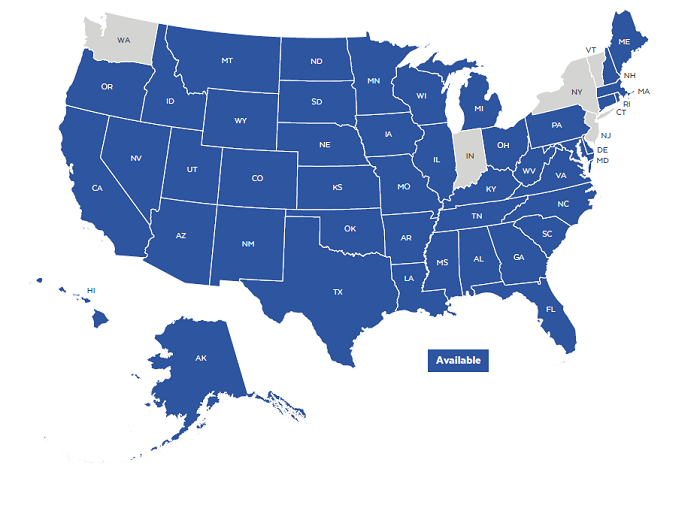 N/A in IN, NJ, NY, VT, WA.
Health Care Discounts Disclosure
Not Available in AK, OK, UT, VT, WA. If members move to one of those states, their discount medical benefits will terminate.
The discount medical, health and drug benefits (The Plan) are NOT insurance, a health insurance policy, a Medicare Prescription Drug Plan or a qualified health plan under the Affordable Care Act.
The Plan provides discounts for certain medical services, pharmaceutical supplies, prescription drugs or medical equipment and supplies offered by providers who have agreed to participate in the Plan. The range of discounts for medical, pharmacy or ancillary services offered under The Plan will vary depending on the type of provider and products or services received. The Plan does not make and is prohibited from making members' payments to providers for products or services received under The Plan. The Plan member is required and obligated to pay for all discounted prescription drugs, medical and pharmaceutical supplies, services and equipment received under The Plan, but will receive a discount on certain identified medical, pharmaceutical supplies, prescription drugs, medical equipment and supplies from providers in The Plan. The Discount Medical Plan Organization is Alliance HealthCard of Florida, Inc., P.O. Box 630858, Irving, TX 75063. You may call 855-351-7535 for more information or visit members.healthdepotsassociation.com for a list of providers. The Plan will make available before purchase and upon request, a list of program providers and the providers' city, state and specialty, located in the member's service area. Alliance HealthCard of Florida, Inc. does not guarantee the quality of the services or products offered by individual providers. You have the right to cancel your membership at any time. If you cancel your membership within 30 days of the effective date, you will receive a full refund of all periodic charges. The processing fee is non-refundable except in AR, MD and TN. To cancel you must, notify the Health Depot Association verbally or in writing; notify Health Depot Association at 6801 Gaylord Parkway, Suite 402, Frisco, TX 75034 or by calling 855-351-7535. We will stop collecting membership fees in a reasonable amount of time, but no later than 30 days after cancellation. Any complaints should be directed to Alliance HealthCard of Florida, Inc. at the address or phone number above. Upon receipt of the complaint, member will receive confirmation of receipt within 5 business days. After investigation of the complaint, Alliance HealthCard of Florida, Inc. will provide member with the results and a proposed resolution no later than 30 days after receipt of the complaint.
Note to DE, IL, LA, NE, NH, OH, RI, SD, TX, and WV consumers: If you remain dissatisfied after completing the complaint system, you may contact your state department of insurance.
Note to MA consumers: The plan is not insurance coverage and does not meet the minimum creditable coverage requirements under M.G.L. c. 111M and 956 CMR 5.00.
close
Choose Level of Coverage: