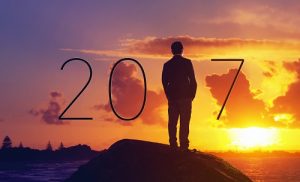 Along with the start of a new year, the Health Depot Association is proud to launch its first issue of Health Depot Digest, a bi-annual newsletter for our members aimed at providing information regarding your membership in Members' Spot, current and new benefit highlights in For Your Benefit, as well as timely topics and resources in Health & Habits.  In addition to our inaugural newsletter, a new Blog - Health Touchpoint - will feature health and wellness articles regularly on healthdepotassociation.com/blog.
We are committed to making Health Depot a valuable resource for our members for their health and well-being. Through newsletters, our new blog and current events on Facebook, LinkedIn and Twitter, our goal is to keep you informed and educated on the changing face of health and wellness.  We welcome your feedback as we begin these endeavors.
In Health,
The Health Depot Association Board of Directors
Join Us for the Health Depot Annual Member Meeting
Our Annual Member Meeting will be held on April 12, 2017 at 3:00pm CST via teleconference.  To attend the meeting, simply RSVP by March 24, 2017.  Upon RSVP, we will forward you the call in details.
If you can't attend the meeting, you can still submit your vote by proxy.  To request a proxy form, email info@healthdepotassociation.com and complete the proxy form by March 24, 2017.
Have a question for the Health Depot Board to discuss during the meeting?
You can submit questions for the Health Depot Board of Directors to address at the meeting. Simply email your questions to info@healthdepotassociation.com.
---
Follow Us
Visit our new blog – Health Touchpoint – for timely articles on health and wellness!  Stay up to date by following us on Facebook, LinkedIn and Twitter too.
Teladoc

With cold and flu season already underway, telemedicine can be invaluable when you need a doctor's opinion and/or a prescription after the doctor's office has already closed.  With Teladoc, you can talk to a doctor by phone, web or mobile app anytime, anywhere.  Speak to a licensed doctor who lives and works in the United States in less than 30 minutes, with an average call back time of less than 10 minutes.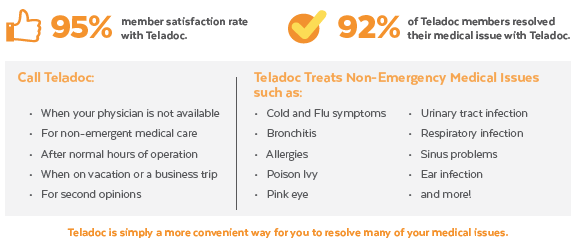 For more information about your Teladoc benefit, visit members.healthdepotassociation.com to review your member materials. 
To begin using Teladoc, visit http://www.mymemberplan.com/HealthDepot to set up your account. 
Telemedicine is Not Available in Arkansas and Washington. Doctors will provide consults, but will not prescribe medicine in SC and IA.  Teladoc is not included in all Health Depot Memberships.
---
One Call Care

When your doctor orders a radiology test like a MRI, PET, or CT scan, Health Depot membership plans with One Call Care provide high-quality radiology testing at lower prices.  Stay in control of your healthcare dollars by requesting these tests through a qualified, lower-cost provider.

By simply calling One Call Care or visiting www.onecallcm.com (select Group Health) to select a convenient location for your test, you can save 20% to 50% and maximize your healthcare dollars.
Additional information on One Call Care is also on your Member Portal at members.healthdepotassociation.com.
Not available in AK, FL, OK, UT, VT, WA.  Not included in all Health Depot Memberships.
---
 Retail Benefits

As you are making plans to escape the cold and take a trip, save money on your travel. Through the Health Depot Retail Benefits shopping site, you can book your airfare and hotel through your favorite travel sites like Expedia, Hotels.com and Travelocity. You can also book your rental car through the same travel websites or from the rental car sites, like Avis and Hertz. Best of all, you will earn cash back on your bookings.
The Retail Benefits site frequently features special discount offers at some of your favorite merchants like Target, Best Buy, Home Depot and Gap to save you even more money for more than just your travel.   Work on your shopping for family and friends, and you will earn cash back on your purchases.  Signing up for Retail Benefits is free for you and your family. Visit https://shop.retailbenefits.com to get started. The savings will add up fast.
Keep Your Resolutions On Track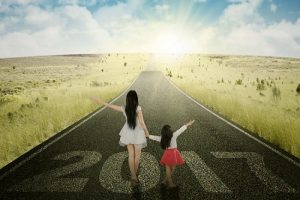 The new year, for many, means making resolutions. But in reality, most don't keep their resolutions. One reason might be that the resolution is too difficult to keep. Making resolutions is a good idea, but keeping them realistic may make it easier to achieve. For instance, if your goal is to lose weight, try making small adjustments at a time. Weight loss may be necessary, but generally a goal of leading a healthier lifestyle may be in order. Diets tend to be short lived for a reason. Here are some tips that may help you keep your weight loss resolution:
Change Your Eating Habits
It's not just the quantity of what you eat that makes a difference, it's also what you eat. A healthy diet with protein, fruits and vegetables is essential to staying on track. If it becomes a habit, you'll be more likely to stick with it. Make sure you eat the food you actually like. You may want to play around with different recipes.
Watch Your Snacks
Be savvy with your snacking. Try to stick with healthier food in general, but if you do eat crackers, chips or other unhealthy snacks, be sure to eat small quantities. Try pouring them into a small bowl. This will help you avoid eating too much out of the package. Be sure to check the serving size on the box.
Drink Lots of Water
Drinking water before a meal will help fill your stomach and you'll be likely to eat less. This helps between meals too. Sugary drinks are a vice that many of us have – and the calories add up fast. Replace juice, sodas, sweet tea and coffee drinks with water.
Cheat Occasionally 
Treating yourself to your favorite food or drink, even on a diet, isn't always a bad thing. Moderation is key, of course; but occasional splurging can help you to not feel deprived and more likely to stick with your diet.
Keep Your Eye on the Prize
No matter what your resolution is, plan on treating yourself to something special when you reach your goal. Remind yourself why you have the goal in the first place. It may motivate you to stick with it – plus it will give you an excuse to treat yourself to something special. You deserve it.
---
American Heart Month

Heart disease is the leading cause of death for men and women in the United States.  1 in 4 deaths are caused by heart disease every year, according to the American Heart Association.  February is American Heart Month and a good time to raise awareness about the prevention of heart disease and how to live heart healthy lives.
Don't be caught unaware.  Learn about the warning signs of a heart attack, stroke and cardiac arrest so you can be prepared.  Visit American Heart Association's warning signs website to learn more.
For more information on heart conditions and living a heart healthy life, visit www.heart.org.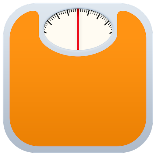 Lose It – Combines a workout journal and a food diary into one tool.  The food library is extensive and has accurate calorie, carb, fiber, fat, sodium and protein values.  Add in your daily exercise with intensity and hours spent and it calculates calories eaten, how many burned and how much more you can eat. 
Available for IOS and Android.

Couch to 5K – For anyone who has wanted to try running but couldn't figure out where to start, this app will help you on your journey.  A free eight-week program gives users three workouts per week to get you ready for an upcoming race.
Available for IOS and Android.

RunKeeper – Goes beyond the basics to offer interval workouts with audio cues,split times and target pacing.  Manually input workout stats for other exercises as well, like treadmill or elliptical workouts.  Manage your music for your workout without ever leaving the app.  The Runkeeper app is supported by the tracking, sharing and mapping upload service at runkeeper.com.
Available for IOS and Android.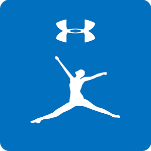 MyFitnessPal – Tracks your calories and activity so you can reach your fitness goals.  With its online community, you can interact with other users, set goals based on personal fitness information and choose from a library of over 3 million food items for your daily tracking needs.
Available for IOS and Android.