Consumer Discounts

CLC Legal Assistance
CLC Legal Assistance
Through the CLC Legal Assistance program, our members have access to free initial legal consultations and discounted services to address many common legal concerns. Members also receive simple will preparation and access to online legal resources at no additional cost.

CLC Financial Counseling
CLC Financial Counseling
Members and their families receive financial counseling services to provide education, guidance and counseling and assists members in determining the most appropriate way to handle your financial situation. Services include tax preparation, budgeting, debt counseling, wage garnishment resolution, pre-retirement analysis, home buying strategies, college funding and more.

Identity Fraud Resolution
ID Resolution
ID Resolution offers free assistance to members who have had their personal information fraudulently used by identity thieves. Experienced fraud resolution specialists can help resolve financial, criminal and medical identity theft.
Other Information
Monthly Rates
About the Carrier

Federal Insurance Company
Chubb is the world's largest publicly traded property and casualty insurer. With operations in 54 countries, Chubb provides commercial and personal property and casualty insurance, personal accident and supplemental health insurance, reinsurance and life insurance to a diverse group of clients. Insurance products and services are provided by Chubb Insurance underwriting companies and not by the parent company itself.
Federal Insurance Company has a 2017 AM Best rating of A++ (Superior). This rating is an indication of the company's financial strength and ability to meet obligations to its insureds.
Chubb Limited, the parent company of Chubb, is listed on the New York Stock Exchange (NYSE: CB) and is a component of the S&P 500 index.
Chubb maintains executive offices in Zurich, New York, London and other locations, and employs approximately 31,000 people worldwide.
Membership Eligibility
Between the ages of eighteen (18) and sixty-four (64)
Reside in an available state
Dependent children must be under the age of nineteen (19) or under the age of twenty-five (25) if enrolled as a
full-time student at an Institution of Higher Learning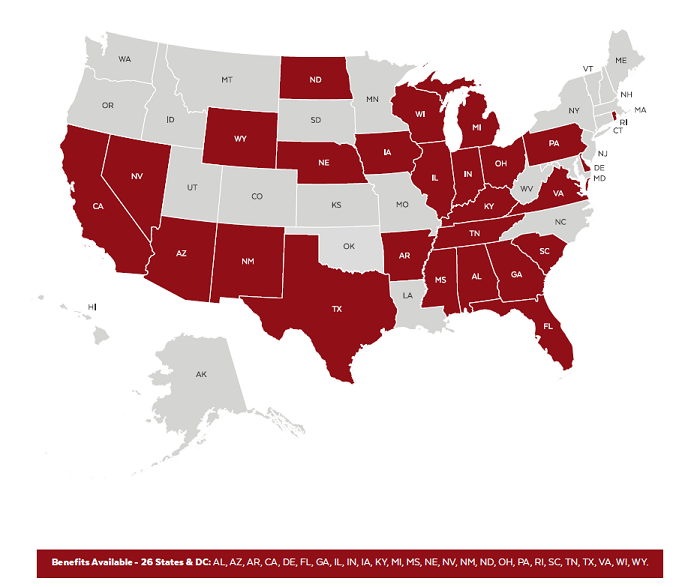 Insurance benefits are not available to residents of: AK, CO, CT, HI, ID, KS, LA, ME, MD, MA, MN, MO, MT, NH, NJ, NY, NC, OK, OR, SD, UT, VT, WA, WV.
close
Choose Level of Coverage: