Insurance Benefits
Hospital Indemnity, Accidental Death & Dismemberment (AD&D) and Accident Medical Expense (AME) Insurance Benefits
Guarantee Trust Life Insurance Company
Group Accident Only Insurance
Underwritten by Guarantee Trust Life Insurance Company (GTL), Glenview, IL
Policy Form Series MP-1400 (or P-1300) issued to Health Depot Association
Benefit Description
Level 1
Level 2
Hospital Indemnity Benefit1
Benefit Amount per Day
$500
$1,000
Maximum Benefit Period per Hospital Stay per Covered Accident
30 days
30 days
Accident Medical Expense Benefit (AME)1
Accident Medical Expense Limit
$2,500
$5,000
Deductible per Covered Accident
$250
$250
Initial Treatment Period
60 Days
60 Days
Benefit Period
12 Months
12 Months
Covered Charges
Hospital room and board, and general nursing care, up to the semi-private room rate.
up to $2,500
up to $5,000
Hospital miscellaneous expense during Hospital Confinement or for outpatient surgery under general anesthetic, such as the cost of the operating room, laboratory tests, x-ray examinations, anesthesia, drugs (excluding take-home drugs) or medicines, therapeutic services and supplies.
up to $2,500
up to $5,000
Doctor's fees for surgery
up to $2,500
up to $5,000
Anesthesia services
up to $2,500
up to $5,000
Doctors' visits, inpatient and outpatient, each visit
$75
$75
Hospital Emergency care
$500
$500
X-ray and other diagnostic tests
$250
$250
Ambulance expense
$250
$250
Durable Medical Equipment
$100
$100
Prescription Drugs
$500
$500
Dental treatment for Injury to Sound Natural Teeth
$250 per tooth up to a maximum of $500
$250 per tooth up to a maximum of $500
Physical Therapy
$60 for first visit; $30 for each visit thereafter
$60 for first visit; $30 for each visit thereafter
Registered Nurse expense
$2,500
$5,000
Accidental Death & Dismemberment Benefit (AD&D)2
Principal Sum- Member, Spouse, Child(ren)
$20,000
$25,000
Schedule of Benefits
Loss of Life
100%
100%
Loss of Both Hands
Loss of Both Feet
Loss of Entire Sight of Both Eyes
Loss of One Hand and One Foot
Loss of Speech and Hearing

Loss of One Hand or One Foot and the Entire Sight of One Eye
Loss of One Hand or One Foot
50%
50%
Loss of Entire Sight of One Eye

Loss of Speech or Hearing
Loss of Hearing in One Ear
25%
25%
Disclaimers
1 Accident Medical Expense Benefit does not pay for reinjury or complications of an injury caused or contributed to by a condition that existed before the Accident.
2 Accidental Death and Dismemberment Benefits are provided as shown in the Schedule of Benefits and pays the member or beneficiary up to
the benefit amount listed for the member's death or loss of certain body parts in a Covered Accident.
Other Information
Monthly Rates
HD CareGuard Monthly Membership Rates
Level 1
Level 2
Member
$77
$99
Member + Spouse
$125
$168
Member + Children
$109
$137
Member + Family
$169
$232
A one-time $35 enrollment fee applies to become a member of the Health Depot Association.
Frequently Asked Questions
About the Carrier

Guarantee Trust Life
With more than 80 years of experience in the insurance industry, Guarantee Trust Life Insurance Company (GTL) has a proud heritage of providing excellent service and superior insurance products to individuals, families and groups across the country.
GTL believes in doing business the right way. They have a consistent track record of successfully delivering on their promises and preserving the trust that their partners, employees and policyholders place in them.
Their mission is to be recognized as a highly-competent, mid-sized mutual insurer, who by bridging timeless virtues with current best business practices, is effective in marketing targeted life and health products across the country.
Guarantee Trust Life Insurance Company's current financial condition is the strongest ever. In 2016*, GTL posted record operating gains while growing surplus by 10 percent, assets by 11 percent, reserves by 12 percent. 97% of the bonds they hold are designated "Highest Quality" (Class 1) or "High Quality" (Class 2) by the National Association of Insurance Commissioners (NAIC).
Guarantee Trust Life Insurance is a mutual legal reserve company located in Glenview, IL, licensed to conduct business in 49 states and the District of Columbia.
*Guarantee Trust Life Insurance Company, Annual Statements 2015-2016
Membership Eligibility
• Between the ages of eighteen (18) and seventy (70)
• Reside in an available state
• Dependent children must be under age twenty-six (26)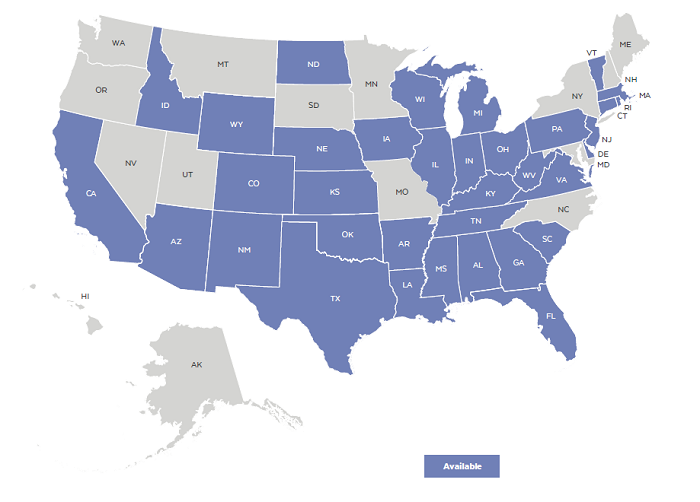 Not Available in AK, HI, ID, ME, MD, MN, MO, MT, NV, NH, NY, NC, OR, SD, UT, WA.
Health Care Discounts Disclosure
Not available in AK, OK, UT, VT, WA. If you move to one of those states, your discount medical benefits will terminate.
The discount medical, health, and drug benefits of this Plan (The Plan) are NOT insurance, a health insurance policy, a Medicare Prescription Drug Plan or a qualified health plan under the Affordable Care Act. The Plan provides discounts for certain medical services, pharmaceutical supplies, prescription drugs or medical equipment and supplies offered by providers who have agreed to participate in The Plan. The range of discounts for medical, pharmacy or ancillary services offered under The Plan will vary depending on the type of provider and products or services received. The Plan does not make and is prohibited from making members' payments to providers for products or services received under The Plan. The Plan member is required and obligated to pay for all discounted prescription drugs, medical and pharmaceutical supplies, services and equipment received under The Plan, but will receive a discount on certain identified medical, pharmaceutical supplies, prescription drugs, medical equipment and supplies from providers in The Plan. You may call (855) 351-7535 for more information or visit members.healthdepotassociation.com for a list of providers. The Plan will make available before purchase and upon request, a list of program providers and the providers' city, state and specialty, located in the member's service area. The fees for The Plan are specified in the membership agreement.
Note to MA consumers: The discount plan is not insurance coverage and does not meet the minimum creditable coverage requirements under M.G.L. c. 111M and 956 CMR 5.00.
close
Choose Level of Coverage: